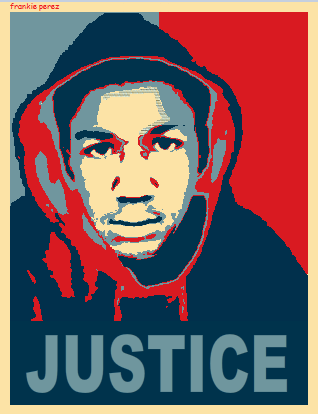 Reflections from the Frontline
CBM Chapter of Metropolitan Chicago Working with Ferguson Youth to Organize for Justice–
While the media spotlight has begun to dwindle on the small Midwestern town of 21,000 plus residents, the flame in Ferguson, Missouri continues to burn in the hearts and minds of Ferguson's disenfranchised youth. They realize that the protest movement that erupted in the aftermath of the August 9th fatal police shooting of Mike Brown, an unarmed teenager, may be the only chance in their lifetime to effect change.
"Their average age was 20 at best," said Bryan Echols, president of Concerned Black Men of Metropolitan Chicago. "They were everything I thought they would be and so much more. Those same inner city youth that many had given up on are now the face and symbol for the next phase in the civil rights struggle for human rights."
Echols and the chapter's Vice Chair Jonathan Peck traveled to Ferguson to help these youths organize both peacefully and effectively. As black men with years of organizing experience in the streets of Chicago, Echols and Peck saw that these protesters were demonstrating not only for Mike Brown and themselves, but each and every black man ever unjustly cut down by police fire, economically disenfranchised, racially profiled, imprisoned or challenged by racism.
"Several diverse groups from Chicago… from members of the Community Justice Network for Youth, Know Your Rights Project, to Concerned Black Men of Metropolitan Chicago, traveled to Ferguson to support their efforts," Echols said.
"These are organically born, self-appointed, focused and determined Millennials, want to make sure that the police shooter who killed Mike Brown is brought to justice. They are there for this teenager who was cut down in the prime of his life on the corner of Canfield Drive and Caddiefield Road in the city in which he grew up."
"I am so impressed with the young people that we met in Ferguson", says Peck. "There is so much to be hopeful for, just seeing so many of them working together and fighting for justice in their community. We definitely want to stay connected and help them build a movement."
The demonstrations continue, with many youths camping out in protest at squatter camps erected in a local abandoned Ponderosa restaurant parking lot. This predominantly African American city has a nearly 50 percent unemployment rate for males (16-24) according to the US Census. Twenty years ago it was once a suburban mecca for soccer moms, corporate raiders, minivans and sprawling one-story homes with rhododendrons in the driveway. Now a place of rampant unemployment and subsistence renters, Ferguson today is the result of a local housing policy that allows turnkey gentrification to flip populations and redistribute wealth.
"The camps are inhabited by residents who were friends and family of 'Big Mike' Brown, the teen fatally struck by a police officer Darren Wilson's bullet in August," Echols says. "They are fed up with the racial profiling and negative interactions with police officers who feel that Black lives do not matter. This terrible incident has given them courage to organize and challenge the status quo in Ferguson.
"They call themselves 'Lost Voices' or 'LV'. These fearless young people did not wait to be appointed leaders but answered the call," notes Peck. "They are not lost anymore."
"I stood over his memorial and I saw his weeping mother," Echols replied sadly. "I heard the song 'Johnny Was' by Bob Marley playing in my head. The moment was surreal. Let it be known that these young men and women warriors are being patient and respectful of the legal process. These young people and the residents of Ferguson are NOT looters or rioters, but marchers and freedom fighters who want to live life and pursue happiness. We welcome and salute their stand for peace, justice and equality, and will continue to work with them to bring real and lasting change to their community."