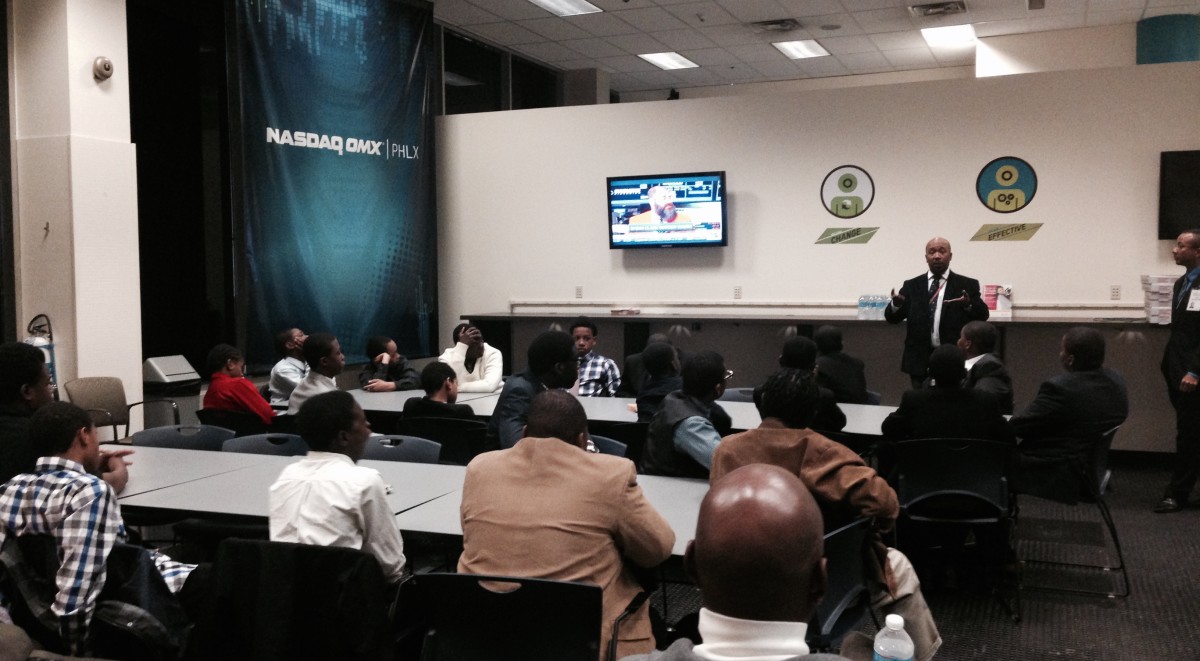 NASDAQ in Philadelphia Hosts CBM CARES® Mentoring Initiative Boys
CBM CARES® Philadelphia boys and their mentors visited the Philadelphia Stock Exchange in November as guests of Michael Blackson a Nasdaq Options Exchange Official and Senior Director of On-Floor Surveillance.  Mr. Blackson who has been at the Exchange for 15 years, invited CBM CARES® Mentoring Initiative boys to tour the exchange, participate in trading exercises, and share a catered lunch.
"If they don't see, it they won't know it's out there for them." Blackson said.  "We want to teach them that they can still keep their identity and be cool.  We want them to know they can make money honestly; in contrast to what they see."
Blackson and colleagues presented remarks on exchange operations, trading concepts and their own personal journey toward involvement with the Philadelphia Stock Exchange.  The boys and their mentors had a chance to ask questions and get advice about possible careers in finance and trading.
"We're glad to support the boys," said Stephen Fortt, Executive Director of Way Haberdashery, a Philadelphia based community organization which provides work attire and career resources to economically challenged communities. "It's all about helping the kids.  It was our pleasure to do."
Fortt along with Way Haberdashery Community Affairs Director, Kunta Littlejohn also attended the event.  The organization donated men's neckwear and taught the boys how to tie them.  The organization is a proud supporter of community projects and CBM CARES® Mentoring in Philadelphia.
CBM CARES® Mentors were also on hand to share in the experience with their mentees.  Many helped to explain complex trading concepts and provided a listening ear to their mentees throughout the trip.  They also watched and coached enthusiastically as the boys participated in a lively trading exercise.
"A lot of our boys don't have a positive [male] role model in the home," said Martin Jackson, CBM CARES® Philadelphia Program Manager.  "So, we are able to be that positive role model . . . thus giving them a lifelong friend."
According to data compiled by the Kids Count Data Center, African American children comprise the largest population of youth born to single-parent households in which the father is absent.   This can be a detrimental factor in the life of a child with the capacity to negatively influence academic and life outcomes.  CBM CARES® Mentoring steps in to fill this void by providing guidance, support and encouragement to children, while stabilizing families, positioning them to lead healthy, productive lives.
CBM CARES® Philadelphia provides in-school, one-to-one and group mentoring to 100 boys in four schools in the Philadelphia area.  The program is funded by the Department of Justice Office of Juvenile Justice and Delinquency Prevention (OJJDP).  In 2014 the CBM CARES® Mentoring Initiative received additional funding from the department to open three new sites in Chicago, Boston and Baltimore.