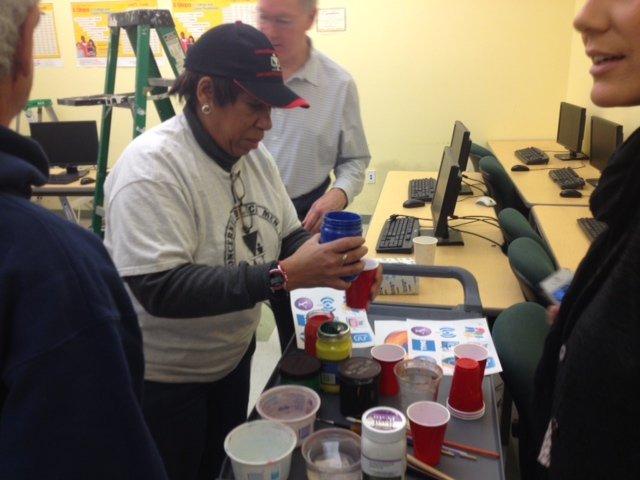 MLK Day of Service Wrap-up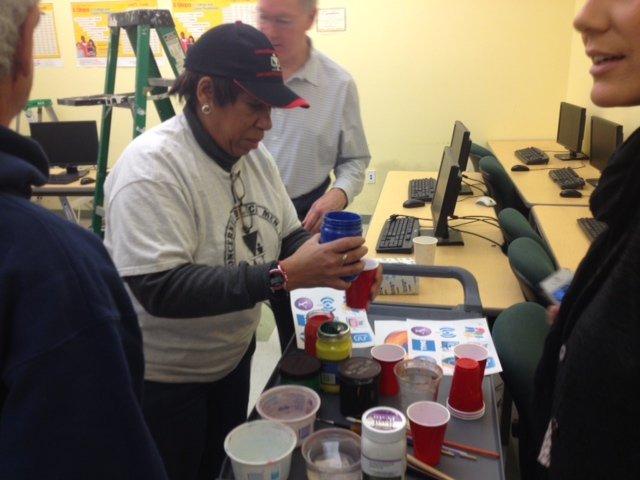 Paint and Possibilities at Charter School Event…
A phalanx of volunteers descended on Ideal Academy Public Charter School on January 19 to lend a hand during the MLK National Day of Service.
So many volunteers showed up, according to Jeanette Simon, Director of CBM National's Volunteer and Mentoring Services Division, that the initial project – to paint a wing of the school – was expanded to include an additional wing. Volunteers also assisted in painting college logos around the school to inspire students to the possibilities of higher education, and technology symbols were painted on the walls of the middle school's computer lab.
CBM partnered with Hands on Greater DC CARES for the National Day of Service at Ideal Academy, which is a part of our CBM CARES® National Mentoring initiative.
In addition to Jeannette, CBM National staff on hand included George Garrow, Executive Director; Leroy Hughes, Chief Operating Officer; and Nathaniel Giles, Program Manager, CBM CARES Washington, D.C.; as well as CBM CARES coordinators and mentor/mentee pairs, and participants in our Homeless Veterans Reintegration Program.
A special feature of this year's Day of Service offered the freshman class of the U.S. Congress and their aides, staff and families an opportunity to help. Along with CBM National and Ideal Academy staff, House members Tammy Duckworth, D-Ill.; Andy Barr, R-Ky.; John Delaney, D-Md., and many others from the Hill helped to beautify the school. In fact, newly minted Congressman Delaney, who represents Maryland's 6th congressional district, encouraged his colleagues to join in and contribute.
"The school was excited and appreciative of our support and the facelift the school received," says Jeannette. "A great group of people came out and put in a good day's work for a common cause."
Service and Celebrities on the Mall
The Presidential Inaugural Committee selected CBM National to participate as one of 100 volunteer service organizations at the MLK National Day of Service on the National Mall on January 19.
CBM National program staff and participants provided information to over 300 attendees who stopped by our table during the day. According to Wayne Salter, Director of Parent and Family Services, 170 National Day of Service participants signed up as volunteers for CBM programs locally and nationally.
All of the CBM local programs had parent and children participants in attendance and taking part in the festivities on the National Mall. Saving Lives and Minds (SLAM) had 10 participating parents and children; the Fatherhood Initiative had 20 fathers and 15 children in attendance; and the CBM CARES Multi-State Mentoring Initiative of Prince George's County had 12 mentors and 18 mentees as participants.
Staff participating at the National Day of Service in addition to Wayne were Cheryl Johnson, Brenda Williams, Sharon Carrington, Preston Peoples and Bettie Garrett of SLAM; Gregory Adams, Justyn Marshall, Julius Jordan and Cyneatria McCrae of the Fatherhood Initiative; and Robert Abney, Aaron Harris and Wanda Pearson of CBM CARES Prince George's County.
Service was mixed with celebrity sightings as participants got to see and hear former First Daughter Chelsea Clinton, actresses Eva Longoria and Angela Bassett, attorney and former talk show host Starr Jones and Philadelphia Mayor Michael A. Nutter.