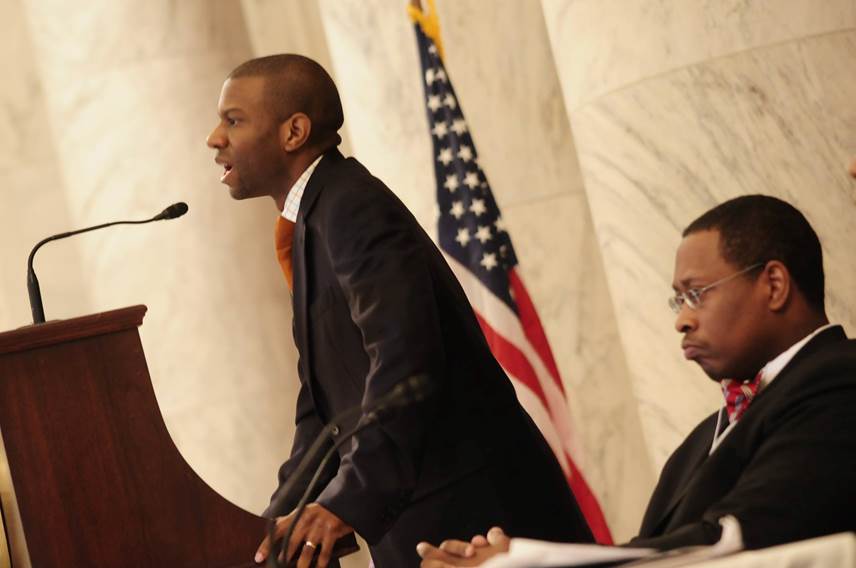 Leaders Discuss "Saving Our Boys" On CBM National's First Podcast
"Saving Our Boys: An Overdue Dialog," the first podcast of Concerned Black Men National, was an impactful discussion with CBM National Executive Director and two leading scholars on the African-American male: Dr. Ivory Toldson(associate professor of psychology at Howard University and editor in chief of The Journal of Negro Education) and Dr. James L. Moore III (EHE Distinguished Professor of Urban Education at Ohio State University and director of the Todd Anthony Bell National Resource Center on the African American Male).
"We wanted to begin the national discussion on race in America," said Garrow, noting that it is especially critical now, in a time that many consider us to live in a post-racial society. "The president of the United States has weighed in and offered his personal experiences as a Black man in America, and even has suggested that perhaps the White House might convene a strategy session on the future of African American boys and men."
"I have been engaged in some very important research, policy work and outreach that aim to improve education and life outcomes for Black men and boys," Moore said. For him, this discussion was a natural extension of his work and his research, which are invaluable components of any national discussion on race.
During the show, panelists discussed the impact of the education system's structure on a "stigma of inferiority" among Black males in this nation and proposed solutions to this critical issue.
"One of the things that really came out of this Trayvon Martin case is that people really started to protect young Black males. Prior to that, we were perpetuating negative stereotypes," Toldson said.
The panelists also discussed the need to address stereotypes in the community, included those perpetuated by Blacks themselves.
"We accept the excuses that are given by a majority society … we have to challenge these assumptions ourselves," Garrow said.
Part of the problem, for sure, the panelists agreed, is the structure of the American education system.
"We have to be committed … to ensure that [educators] are prepared to work with the new demographic groups, or the minorities who will become the majority of our larger society and adapt to our young people," Moore said. "Education should be empowering, it should not be reflective of your circumstances, as if you cannot rise above that."
Moore called for the White House to provide more resources to deal with some of these systemic issues, in addition to the need for individual involvement.
Toldson agreed, but emphasized the responsibility of individuals, even more than government officials, to get the word out and change the narrative on Black boys in America.
"In order for us to get good policy, we need the best information out there. It is incumbent upon all of us to make sure people really understand the needs, the characteristics, and the dispositions of our young Black males," he said.
The key to putting out the most accurate information, from Garrow's perspective, is changing our own views on our boys first.
"We view them as problems, as an issue to be handled and managed, as opposed to seeing them as children, as others would see their children," Garrow said. "I think those of us, particularly parents and those of us in the Black community have to be more persistent in our efforts to make sure that Black kids are viewed" as children, not situations.
Toldson agreed, noting that many of these negative images about Black boys are perpetuated by Blacks themselves, who disseminate misinformation, which furthers the stereotypes magnified by mainstream media.
You can access the full discussion here.