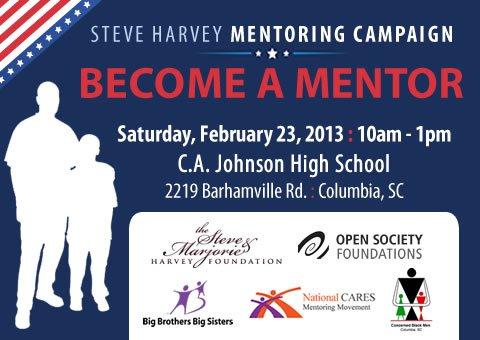 Concerned Black Men CARES® Partners with Steve Harvey Mentoring Campaign
Mayor Benjamin to Open "Become a Mentor" Forum and Recruitment Campaign
Feb. 23 at C.A. Johnson High School
Concerned Black Men (CBM) CARES® Columbia is partnering with the Steve Harvey Mentoring Campaign to co-host a forum and recruitment effort to increase the number of black male mentors in the city.
The "Become a Mentor" event is set for Feb. 23 from 10 a.m. to 2 p.m. at C.A. Johnson High School on 2219 Barhamville Rd.
The forum, to be opened by Columbia Mayor Steve Benjamin, will discuss the positive impact of mentorship on the lives of young black males. Simultaneously, black men interested in becoming mentors will be signed up on the spot. The Columbia event is the latest stop for the popular entertainer's mentoring drive, which so far has been to Los Angeles (October 2012); Chicago (November 2012); and Washington, D.C. (January).
CBM CARES® Columbia, SC is a part of a national mentoring initiative of CBM National to inspire African-American men to become role models and participate in the lives of African-American children. Statistics show that more than 60 percent of black children are growing up in father-absent households with a similar number dropping out of high school. Further, a significant percentage of high school drop-outs are at risk of becoming incarcerated, and trapped in a cycle of unemployment and low-wage jobs.
"We share the Harvey Mentoring Campaign's commitment to raising awareness about the importance of mentors and the need to get more African-American men involved," says Jimmie Wright, president of the CBM chapter in Columbia. "We need more men to step up to the plate and mentor our boys."
Wright and CBM CARES® Columbia Program Manager La'Sondrick J. Bridges has secured the participation of local mentoring for this event, including:
100 Black Men
Big Brothers Big Sisters
The Board of Directors (a mentoring organization)
C.A. Johnson High School (lead by Principal and CBM member Nate White)
Call Me MISTER (Mentors Instructing Students Toward Effective Role Models)
Harmony
Junior Buffalo Soldiers, Columbia Chapter
National CARES Mentoring Movement, Columbia
Omega Psi Phi Fraternity, Inc., Columbia
WWDM 101.3 FM (Columbia home of the Steve Harvey Morning Show)
Young Democrats of South Carolina
"We want as many men there as possible to help us find solutions to the problems facing our children," says Wright. "We just want to do what's best for the kids."