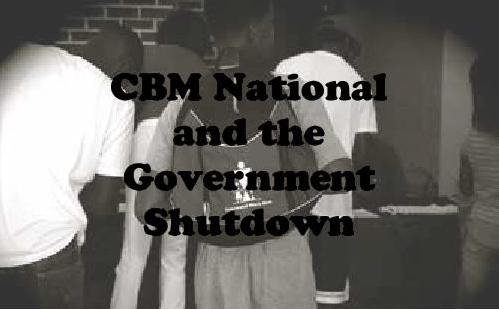 CBM National and the Government Shutdown
Things happen in government. Sometimes, budgets don't get re-authorized and programs across the country may be delayed while congressmen work towards a spending agreement.  Incidentally, our government was designed by the Founding Fathers to move through a slow and deliberate process, so the shutdown may linger longer than many are hoping.

As this process drags on, many programs around the country are reporting impacts on operations. You may have read about the delays to programs like HeadStart, the potential impact on School Lunch programs. CBM's programs are not exempt from impact.
Saving Lives and Minds (SLAM) Academic Performance Program
D.C. Public Schools instituted a new process of signing students up for after-school programs. Our staff attended the after-school enrollment fair late in the summer, and have begun the process of confirming parents of their status. We currently have almost 40 children enrolled in the Saving Lives and Minds Academic Performance Program (SLAM), which serves students in grades K-5 at Savoy Elementary School in Ward 8. Funding for SLAM is
provided by Children and Youth Investment Trust Corporation, a division of the District of Columbia government. The District's budget is authorized by Congress, and is presently awaiting congressional re-authorization.
What has us greatly concerned is that since parents were to sign students up in advance, many may be unable to find slots in alternative program. Additionally, other options available to the students at Savoy Elementary School, where we operate SLAM, may require parents to pay. Most of our parents are low income, and this may be a burden they cannot afford. In light
of these facts, we are greatly concerned about what will happen to the children in our program, and how the parents will be able to meet their after-school needs
CBM CARES National Mentoring Initiative
Before mentors can begin working with our boys in middle school, they must be fingerprinted and have complete background checks run by the FBI. Presently, no FBI fingerprints are being processed. This impacts all 900 boys we are striving to serve in Washington, DC; Prince George's County, MD; Philadelphia, PA; Columbia, SC; Richmond, VA; Los Angeles, CA; Oakland, CA; Dallas, TX, and Cape Cod, MA.
Homeless Veterans Reintegration Program
This program connects our warriors with their benefits and helps them to get back on their feet. We are concerned that benefits may be delayed beyond the previously-high 290 day processing time, presenting an additional hurdle to helping our veterans back on their feet.
It has been reported that as many as 4 million veterans will not receive their benefits next month if this shutdown continues. Our program will be unable to connect veterans in the Washington Metropolitan area with their benefits, including: housing, tuition assistance, medical assistance, etc.