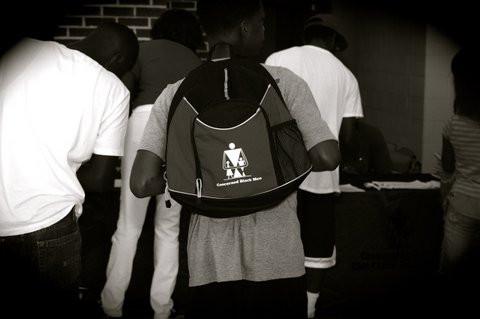 Back to School Bash a Hit
CBM National celebrated the end of summer in five cities Saturday, hosting a back to school bash for students in Washington, DC;  Columbia, SC; Philadelphia, PA and Richmond, VA.
The events, which bring together all of CBM National's divisions to get our children ready for the school year, provides students with services such as haircuts, dental screenings and manicures and school supplies for the upcoming year. Children played games, danced to music and ate food prepared by CBM volunteers and partners as they partied away summer and brought in the new school year.
"This was an outstanding opportunity for CBM to assist our parents and children with a successful start to the 2013-2014 school year," said Wayne Salter, National Director of Parent & Family Services and the Fatherhood Initiative.
Cheryl Hart-Johnson, Saving Lives and Minds program division director, said the event "provided the families we touch and impact a better connection and support [from the organization] — it's not just programming, we look at the whole family, their needs and how we can help them be successful."
Beyond just the nearly 600 students the event served, it was truly an enriching event for staff, many of whom were working on this event for the first time.
"The event brought home to the staff how important our work is and the positive effect this work can have on our families," said CBM CARES® director Jeanette Simon.
"The beginning of the school year is an exciting time … it is a time of renewal, a time of opportunity, a time to celebrate our young people and attempt to build a school system, an after school program network and an educational process to make our kids the best-educated young people in the world," said CBM National Executive Director George Garrow to an audience of young people and supporters in Washington, DC. Garrow admitted it was a lofty goal, but reiterated his desire to make it happen.
And while the CBM National Back to School Bash may not have exemplified that yet, the future of our students is so bright, they've got to wear shades!
See full album on facebook: https://www.facebook.com/media/set/?set=a.10151541976512400.1073741828.85237652399&type=3